September 3-5, 2005
--
Long Beach Convention Center, Long Beach, California
Can't find it?
Site Index
Questions?
Contact Us

Independent Film Festival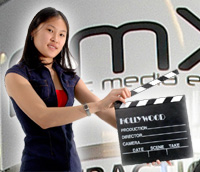 The Pacific Media Expo Independent Film Festival features unbounded works that address Asian issues and culture, or the Asian artists themselves. A broad variety of artistic pieces will be screened throughout the festival.
The selected films are listed in the order they will be shown during the festival. Please note that this is subject to change.
JOE MAK: STREET MAGICIAN
By:
Rebecca Yee & MikiO Nakazato
Length:
8 minutes
JOE MAK : STREET MAGICIAN is a short comedy about magic, mystery and "the Mak". Similar to the infamous David Blaine, Joe Mak walks the earth sharing his magical and not-so-magical powers. The people of Los Angeles Chinatown are not only fascinated and impressed by this strange man's magic, they are inspired by his faithful and relentless quest to appeal to our inner desires to believe in the spirit and beauty of magic.
GOT BOOK? AUNTIE HELEN'S GIFT OF BOOKS
By:
Florante Ibanez
Length:
8 minutes
This documentary gives a brief look at Helen Agcaoili Summers Brown, founder of the Filipino American Library. Auntie Helen, as she is widely known in the Filipino Community, is interviewed by one of her sons, George Brown, as we trace her growing up in the Philippines as a mestiza (half Filipino and half Caucasian American) and move to So. California. It is suspected that Helen was the first Filipina to attend UCLA. She married her UCLA sweetheart, Bill Brown, became a teacher and raised a family. Her collection of Philippine books from her father became the basis of her dream, the Filipino American Library.
SADNESS OF SAND
By:
Rey Ventura & Khavn dela Cruz
Length:
18 minutes
K, a brown Filipino with blonde hair, comes to the island resort of Boracay to meditate. In his sacrilegious meditation, he contemplates on some of the ills paralyzing the Philippine society: hypocrisy, politcal militancy, and fanaticism.
FILM OF FIVE RINGS (clip)
By:
Lucan Duran
Length:
6 minutes
A comical action vignette from the in-production FILM OF FIVE RINGS. The short humorously explores the idea of "ninja."
SELLING SONGS OF LEYTE
By:
Eli Africa
Length:
14 minutes
On the Philippine island province of Leyte, "Ta'bo" or market day shifts from town to town during the week where local residents flock to get their basic needs. A tradition among a few of the dried fish vendors, wares are sold using the rhythm of the songs they sing.
SEVEN DAYS IN JAPAN
By:
Joe Doughrity
Length:
35 minutes + 16 minute bonus
SEVEN DAYS IN JAPAN follows Japanese animation super fan Joe Doughrity as he sets out to fulfill his dream of visiting Japan. He travels with a diverse group of 16 others on the 'Neo Tokyo 2004' tour organized by Pop Japan Travel. Together, they experience many aspects of Japanese pop-culture such as ganguro girls, J-pop music and fighting champ Bob Sapp. Join Joe and the crew as they stroll through Ueno Park, marvel at giant robots, and learn how anime is made while visiting a famous animation studio. If you have ever been interested in anime or Tokyo, SEVEN DAYS IN JAPAN is for you.
REFLECTIONS
By:
Mateo Reyes
Length:
22 minutes
A documentary of Reyes' parents' life stories growing up as Filipino-Americans in the 60s and 70s. The film chronicles racism, discrimination, social movements and raising a family.
SUSPENSION
By:
Rhianne Paz Bergado
Length:
27 minutes
Bergamonte High School is a quiet place, filled with bustling students, neatly kept uniforms, and bake sales. Natalie Cordia is about to change all that. Class President Kara LeBlanc is in an uproar over the new batch of students from the wrong side of the tracks. Natalie can't help but feel different, she defies Kara by befriending the class outcast, and refusing to conform to the uniform code. Natalie makes powerful allies that protect her, but can they protect her from her greatest enemy? Natalie struggles to accept her identity as a teenager, but matters get worse. Natalie will have to accept herself and face Kara's evil plans.
© 2004-2005 Pacific Media Association. All Rights Reserved.
Images are copyright of their respective owners. Used with permission. All information subject to change.